What is Biodegradable TPU (bTPU)?
What is Recycled and Biodegradable TPU?
Field Notes:
Highest resistance to abrasion compared to common dry bag materials
Maintains flexibility and strength in all climates, exceptionally well in the cold
High resistance to tearing
Recycled, recyclable and biodegradable
Biodegrades in 3-5 years under specific conditions.


Biodegradable TPU (bTPU) is a recycled thermoplastic polyurethane with organic blocks added to the molecule chain allowing it to biodegrade in soil in between 3-5 years.
Mouthful I know. Let's break it down a bit and why this is important.
Let's compare first to what is typically used in dry bags. Most waterproof material is made from PVC, Vinyl or Nylon which are standard plastics that give the bags their waterproof capabilities. The process to create this synthetic fossil fuel-based material has a heavy environmental impact – that goes without saying. It also does not biodegrade, lasting up to between 40-200 years after disposal. PVC, arguably the most common, is also very difficult to recycle due to the presence of heavy metals like lead and cadmium. It's considered a contaminant in recycling streams and less than 1% is recycled.
BTPU on the other hand is initially created using 30-70% renewable resources and is substantially less toxic than PVC. L/L Supply's Biodegradable TPU is also recycled and recyclable at the end of life – it's still a plastic. However, during the creation of the material, organic "blocks" (basically molecules used in biochemistry) are added to the material's molecules. This gives bPTU properties that allow microorganisms to break it down under the right conditions.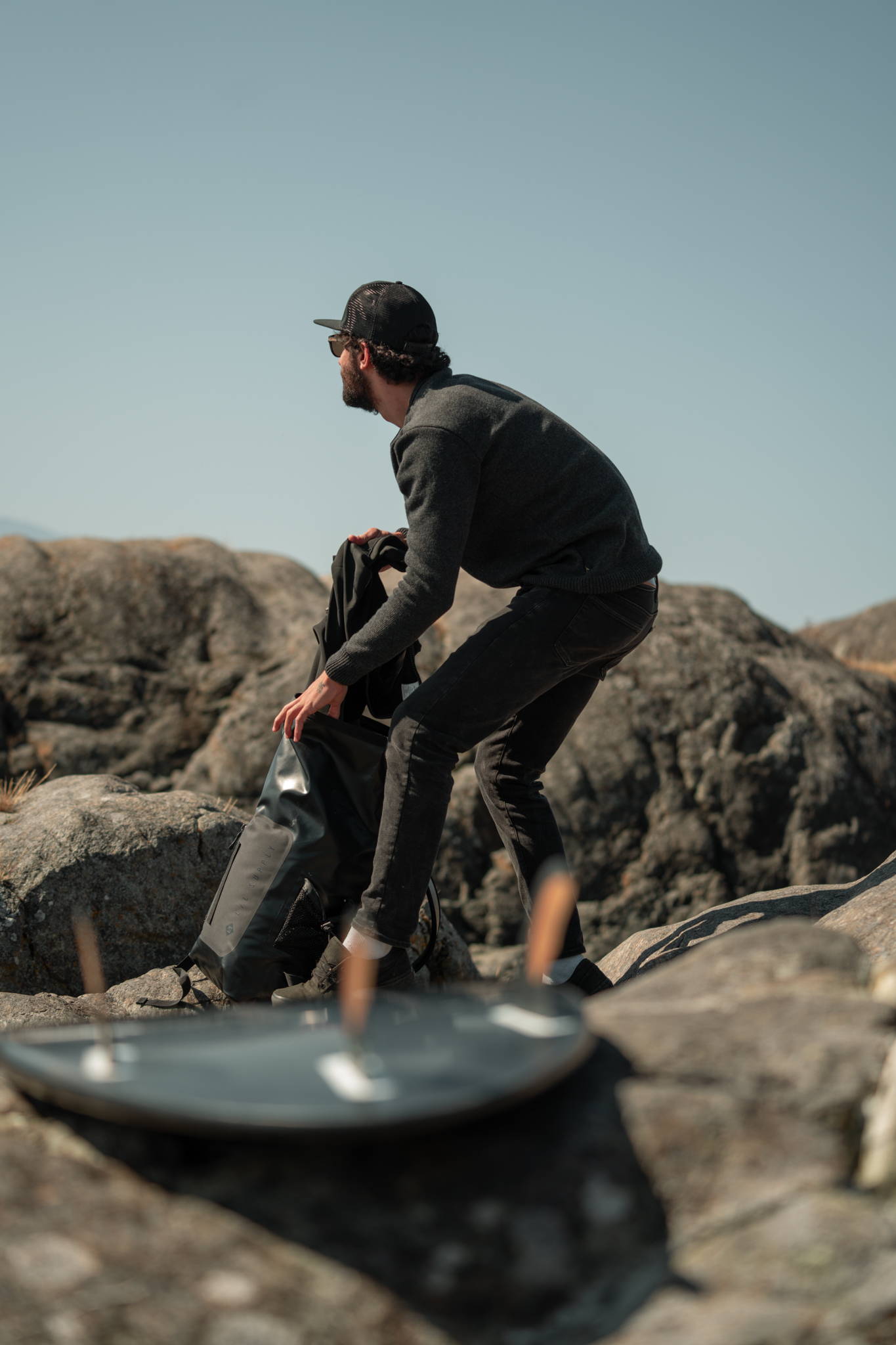 You don't need to worry about it degrading during use because it requires specific industrially available moisture, darkness, and microorganisms – so unless you bury it in your backyard between surfs, you're sweet, it won't ever biodegrade during ownership.
BTPU is also more abrasion resistant than any of the other plastics mentioned. Making it incredibly high quality for bags that slide in out of truck beds and spend days on airport floors.
The bTPU material we use also has high hydrolysis resistance making it withstand tears and maintain flexibility in low temperatures – which is exactly where the bags were designed and tested, in the cold waters of the Northern Pacific Ocean. In any temperature bTPU is more flexible than its counterparts, allowing it to bend and stretch without cracking or compromising tensile strength.
We searched high and low for the best possible solution to waterproof, high strength material and we believe bTPU is the best in the game when balancing exceptional quality and sustainability. Every inch of our dry bags have been meticulously designed to meet your needs and withstand every adventure you take it on. Minimal impact with maximum effectiveness.
}