Journal Entry: Hikkaduwa Sri Lanka
The forecast looked grim.
Sat in the Dubai airport, I checked the Hikkaduwa swell report for the hundredth time. I knew it hadn't changed but the optimist in me was hoping a storm developed miraculously in the Indian Ocean in the last 26 minutes.
Quick flight. Fast Tuk Tuk. Long train. Short walk.
The gentle afternoon onshores blew across the balcony and made the salt on my skin suddenly perceptible. The beer sweat cold relief on my palms and I watched as the last waves lit by daylight broke over main-reef.
I was in my paradise. This place is my speed. Island time… you wait 30 minutes for every meal but don't care because time barely exists here. Waking up, napping, eating, it's all dictated by tides and wind, sometimes hikes and sunset/sunrise. A watch on a wrist is as rare as a cloud in the sky.
Life moves slow but the weeks pass quickly.
We hopped around the South West, only briefly leaving the water for coconuts and beer. We put a ton of new product through it's paces - wet, dry, dirty, sweaty and wet again. Any excuse to get on a plane for "work" is a good one.
The inner turmoil of desire to do something in this world or just post up somewhere like this and let the years slide away salty and sunburnt. Running your hands through the turquoise water these thoughts drift through your mind…
Going to Hikkaduwa? Read on...
Hikkaduwa also has a lot more to offer than just waves.
It's a jump off point to the rest of the far-less developed Southern reaches of the country and it offers good nightlife with tons of awesome food options, as well as some decent spots to snorkel or free dive. If you want to hit the interior and see the tea plantations they're only 4 hours or so by car.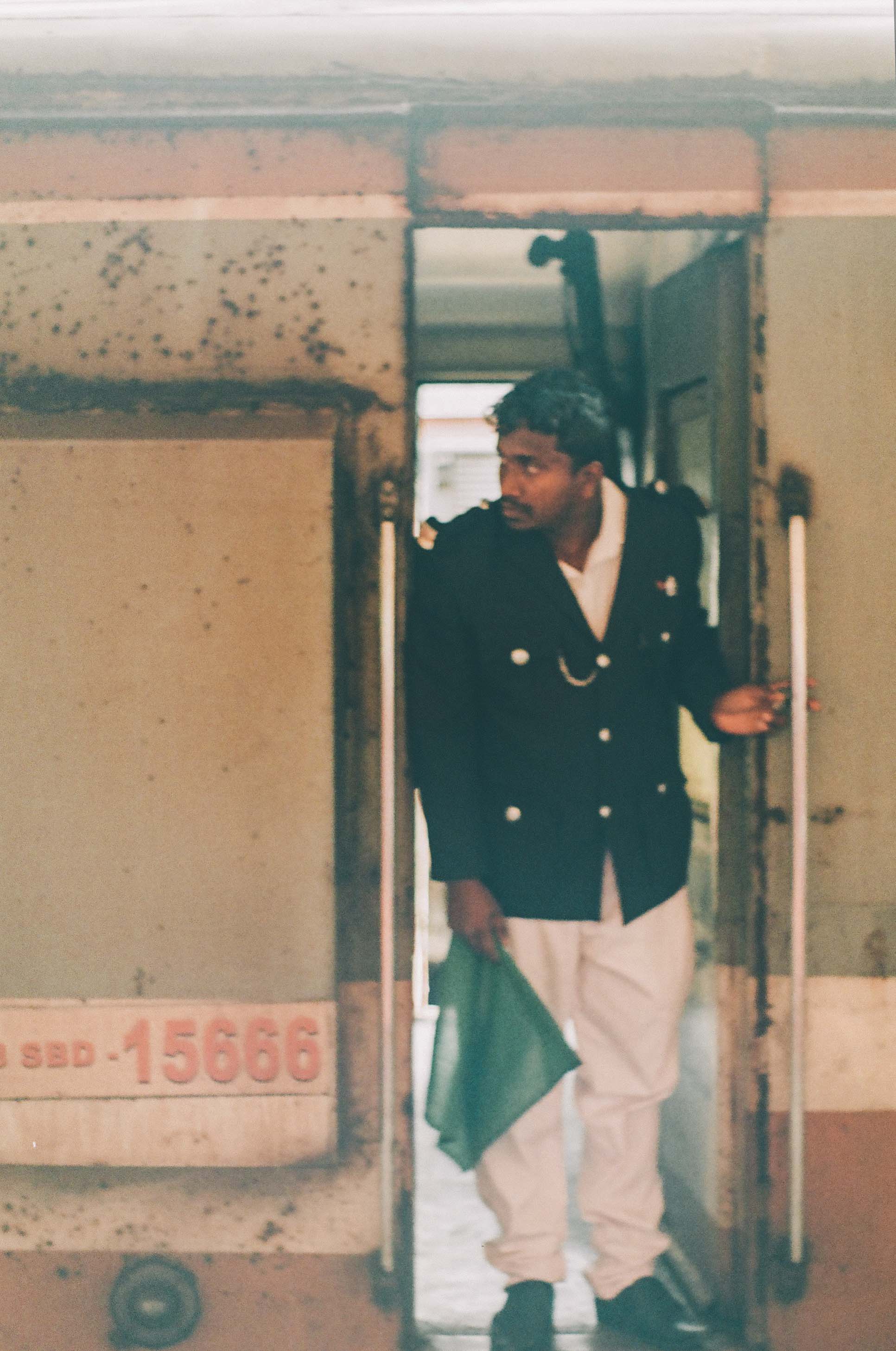 Getting to Hikkaduwa...
I take public transportation as much as I possibly can while travelling. There's something about being a part of the day to day in that country, even just for a moment. You'll get a few, 'what is this guy doing' looks but everyone is extremely friendly. It's safe and the people here are very kind.
I took the train from Columbo to Hikkaduwa and it takes about 3 hours.
Columbo to Hikkaduwa Train:
1. Go to a cash machine and get out rupees. Go to an exchange desk and ask for small bills. They won't have change for 5000 rupees on the bus.
2. Walk out of the airport and across the street. Jump on bus 187 to Columbo. They leave every 30 mins. Cost is 100 rupees.
3. Get off the bus and jump on a tuk tuk to get to Columbo Fort. 100 Rupees.
4. Once you're at the train station buy a second class or better ticket. Make sure you board in the right class.
5. Make friends and ask when to get off.
I rode third class and after two hours of being crammed standing up between people sweating my ass off I finally made some friends who let me get to the door for the last little while. Make sure you check the train times too depending on when your flight gets there. Here. 
If you're travelling with boards you can take the train but if you have a lot of big ass board bags it will be tough - not impossible, tough. A taxi to Hikkiduwa will run you about 6500-8000 rupees depending on who you know and your negotiating skills.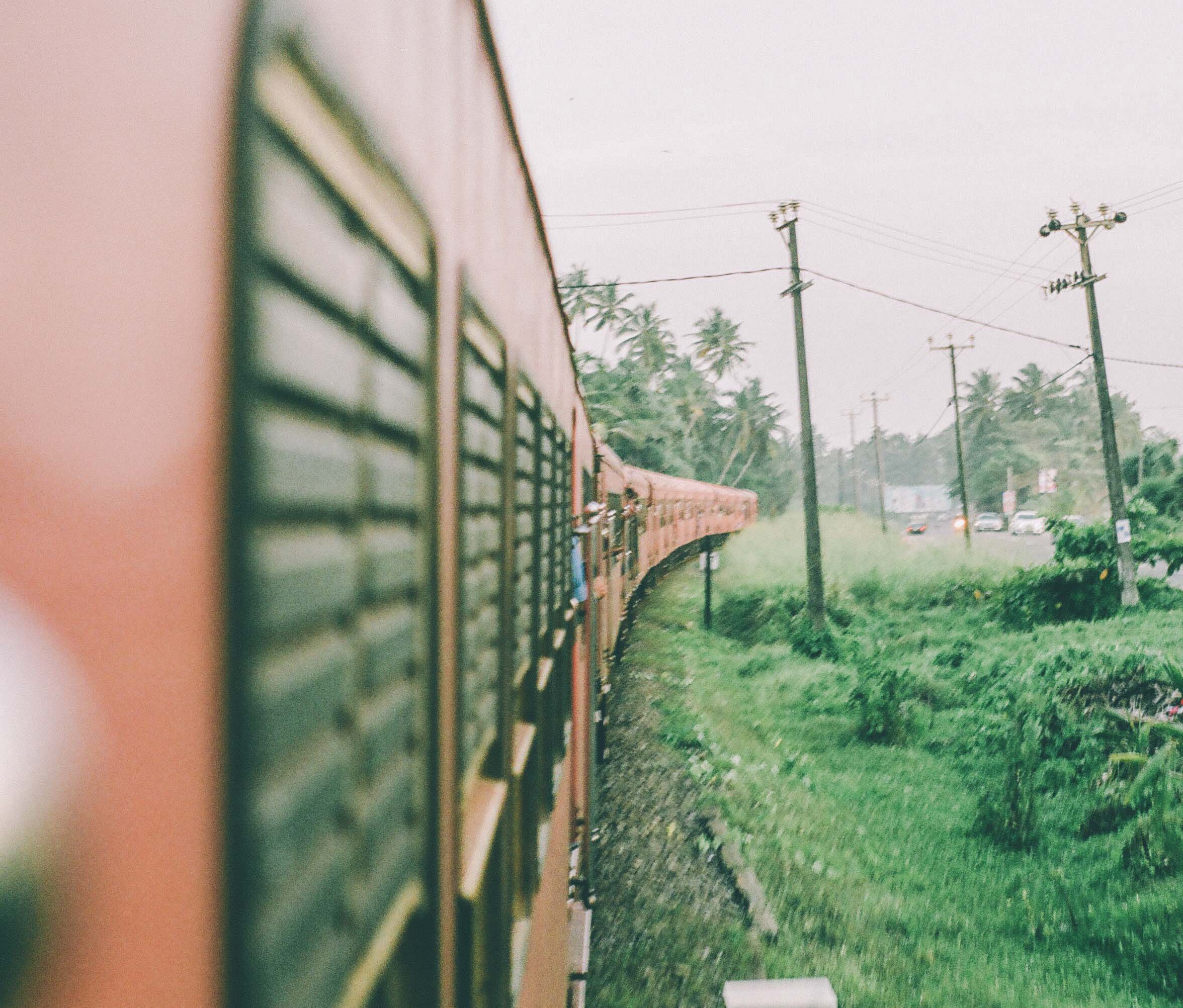 Sri Lanka Train Ride Tips:
1. Pick which 'leg' of the train you want to do. They aren't all equal.
2. Buy at least a second class ticket if you want a view.
3. Book in advance.
We've all seen the incredible Instagram photos of people hanging out the door, tea fields clipping by and thought, I want that. It takes a little more planning than just jumping on the train though. First of all, the best leg of the train is Kandy to Ella (or vice versa). That's the most beautiful section. It's 7 hours.
We met some clever backpackers that hopped on the train in Nuwara Eliya (closest station is Nanu Oya) and took it to Ella. This is only about 3-4 hours and easier to get to than Kandy if you're coming from the South.
For this section you definitely need to book in advance. You can book in advance in two ways, online through a Sri Lankan service like this, the trains don't have online booking. Or as soon as you get there, go to a train station and book your ticket.
Hikkaduwa Hotels:
There is no shortage of Hikkaduwa hotels. The whole beach is lined with small hotels.
We stayed at a place called Mountain and Wave Hotel and it's one of the best places I've ever stayed. Dimatu is the owner and he's a great guy.
If you surf and you're not taking boards, this place has the best selection of rideable (not trashed) boards I saw anywhere we were in Sri Lanka. I just paid the day rate and they let me take out whatever I wanted.
The hotel is super clean and has A/C which is pretty key for me since it's hard to get climatised to sleep in that heat within a week. All the beds have mosquito nets and not the ones that drape on your face.
It's located a little South of the main Hikkaduwa area and away from the big hotels. You could throw a coconut and hit main-reef and all the best eats are within walking distance. With very little research, we lucked out, that's for sure.
(check out the hotel here and say hey to Dimatu for us!)
Eat/Drink :
Aside from surfing and shooting photos, I basically travel to eat stuff. We found some seriously good spots to dine around Hikkaduwa. I generally try to stick to local foods unless I'm hardcore craving something, so curry was the go to here.
Bookworm Library Restaurant.
This place is a must. It's about as local as you can get. You have to stop by in the day and make a "reservation". You just tell them what time you want to come and they hold enough food for you. There's no menu, it's all vegetarian and the family just cooks you dinner. It's literally a backyard with some plastic tables and chairs and the BEST curry you'll have in your entire life.
It's directly behind Mountain and Wave and I would have eaten here every night if I had known from day one.
Salty Swamis.
Also known as where you'll eat breakfast every day. The vibe here is the initial selling point. They have big comfy pillows you can sit on (they also have tables and chairs) and the music is a mix of chilled out beach and good vibe oldies. The staff is either local surfers or seem like they all came to Sri Lanka for a trip and just said screw it, I'm staying.
The vibe gets you in then the coffee and food keep you coming back. Everything I tried here blew my mind. The Swami Bowl is a breakfast bestowed upon you by the Gods of morning goodness. Go here. If you end up working here, don't blame me, I would have too.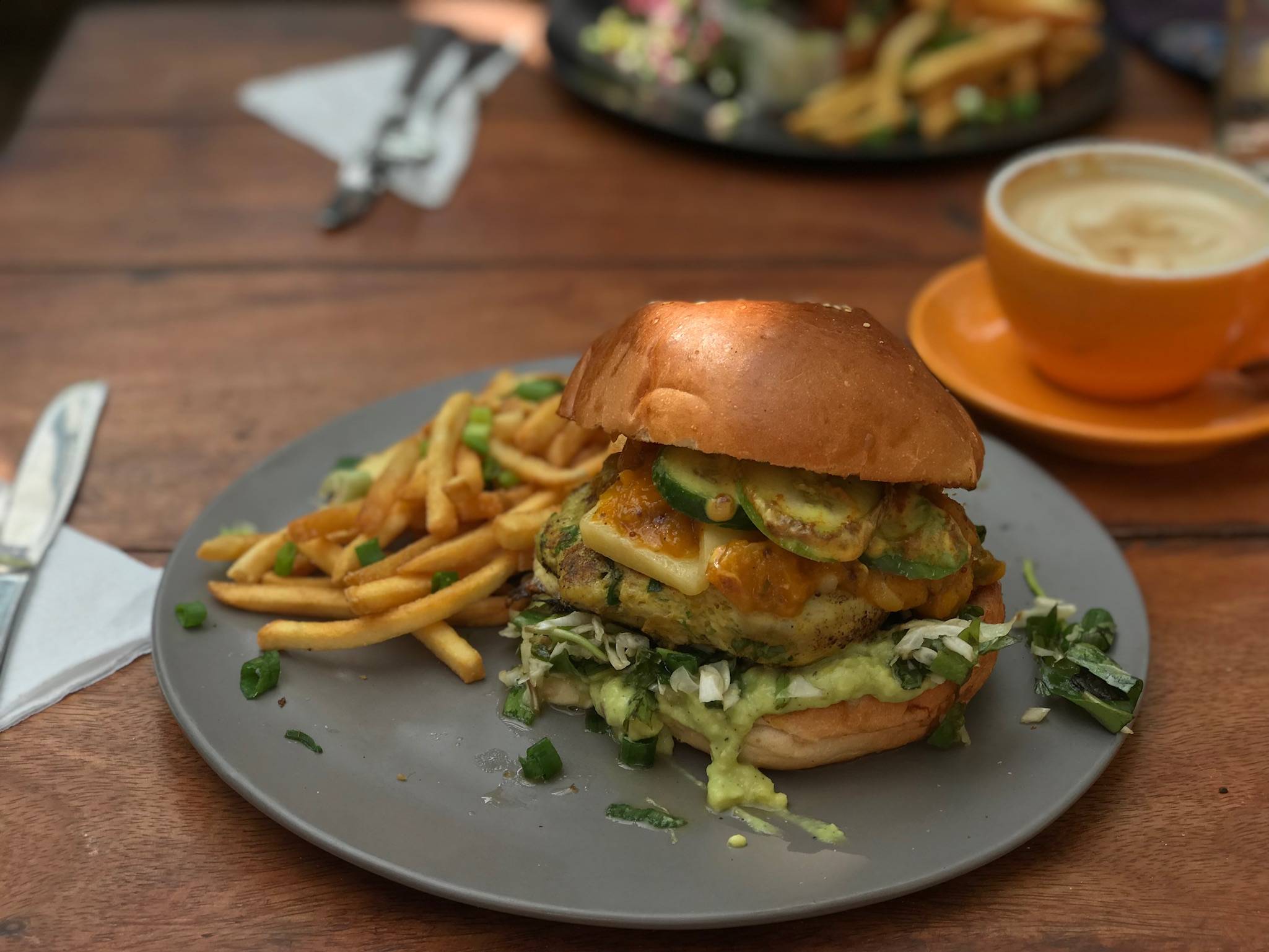 The Chicken Burger at Salty Swamis
Funky De Bar.
This is where you sink sunset beers. I mean, anywhere on the beach is good. I became particularly fond of my balcony at Mountain and Wave but if you're feeling social this is the spot. Feet in the sand, super cold beer in hand and main reef is 100m away. You can watch the fireball sink below the horizon as surfers 50ft from you grab the last rideable walls of the day.
Get Fresh.
This place took second spot for curry for me. It's a second floor spot on the East side of the main road about a 15 minute walk from our hotel North. It's popular because it's kick ass. There's a little table wait sometimes but it's worth it. Go for the curry, I can't comment on anything else but my prawn curry was da bomb.
There's a good nightlife in Hikkaduwa if you're looking to party. We went out for beers a couple nights but there was waves every morning and if you want to beat out all the hungover wannabes I suggest you hit the line up at dawn, you'll have it at about 1/10 of the crowd you get at 9am.
Have a kick ass time!
We'd love to see what you get up to, tag us or #lifestyleoverluxury on your adventures.
Been here recently? Wanna suggest edits? Want to write for us? Drop us an email, we're always stoked to publish stuff from the community.
}