Behind the Blog: Tiny House, Tiny Footprint
Behind the Blog: Tiny House, Tiny Footprint
We met Kathleen a couple years ago at a vanlife gathering in the mountains of Colorado. The air was crisp but full of sun, there was a paved hill that takes 15 mins to skateboard down, the laughs were countless, the river was too cold to shower in and the keg was emptied quickly by an endless line of mason jars.
Since then, we, like many of you, admire Kathleen's incredible lifestyle through our glowing phone screens. We're welcoming Kathleen on board as an L/L Affiliate, so we sat down (virtually) and we got to ask her all the envious questions we all ponder from a distance.
Why did you start Tiny House, Tiny Footprint?
Three years ago, I was living in Denver in an apartment with my boyfriend at the time. Rent prices were rising, and because we spent most of our time at our jobs or doing various outdoor activities (hiking, biking, climbing), we felt like we were paying too much for the cost of living.
During all the time we were spending outside, we were learning more about our impact on the environment from living in a city. We started to examine how much we were consuming in our apartment (and one we barely spent time in) and it made us wonder if there were other ways to live.
Those two reasons led us to explore alternative ways of living. Since we were both working full-time office jobs, we needed a place that would allow us to be in one location. And from all our research about tiny houses, we decided a camper trailer would work best for this option. It was big enough for our needs (140 square feet) and didn't cost too much ($1,800: one month's rent in the city). We decided that we could always build a tiny house on wheels while we lived in the camper trailer if we wanted a long-term home for tiny living.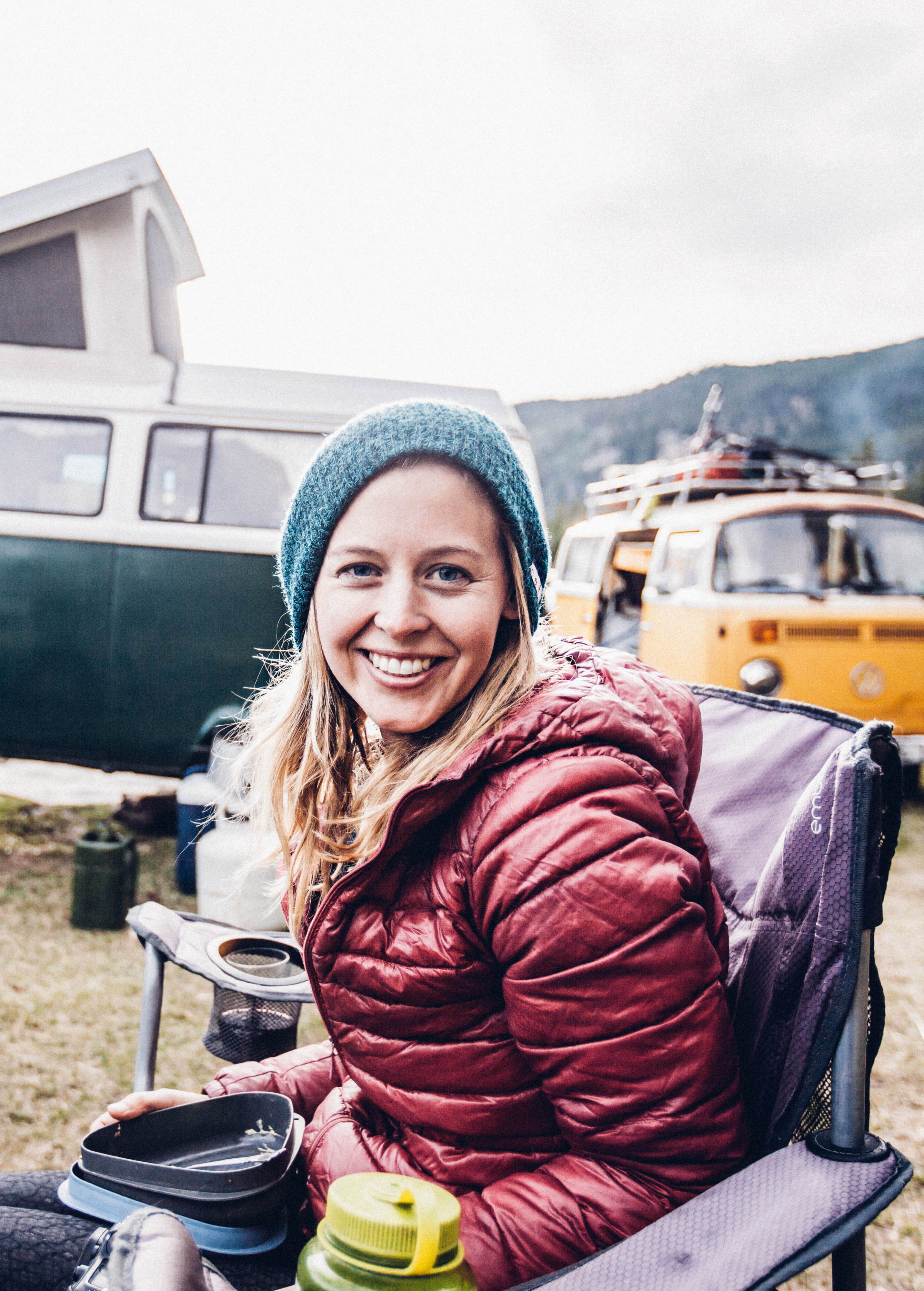 At the time, we didn't know anyone in the tiny living community. So we felt encouraged to create a platform for sharing stories and inspiring others to consider alternative living and reducing their environmental footprint. We called our project, Tiny House, Tiny Footprint.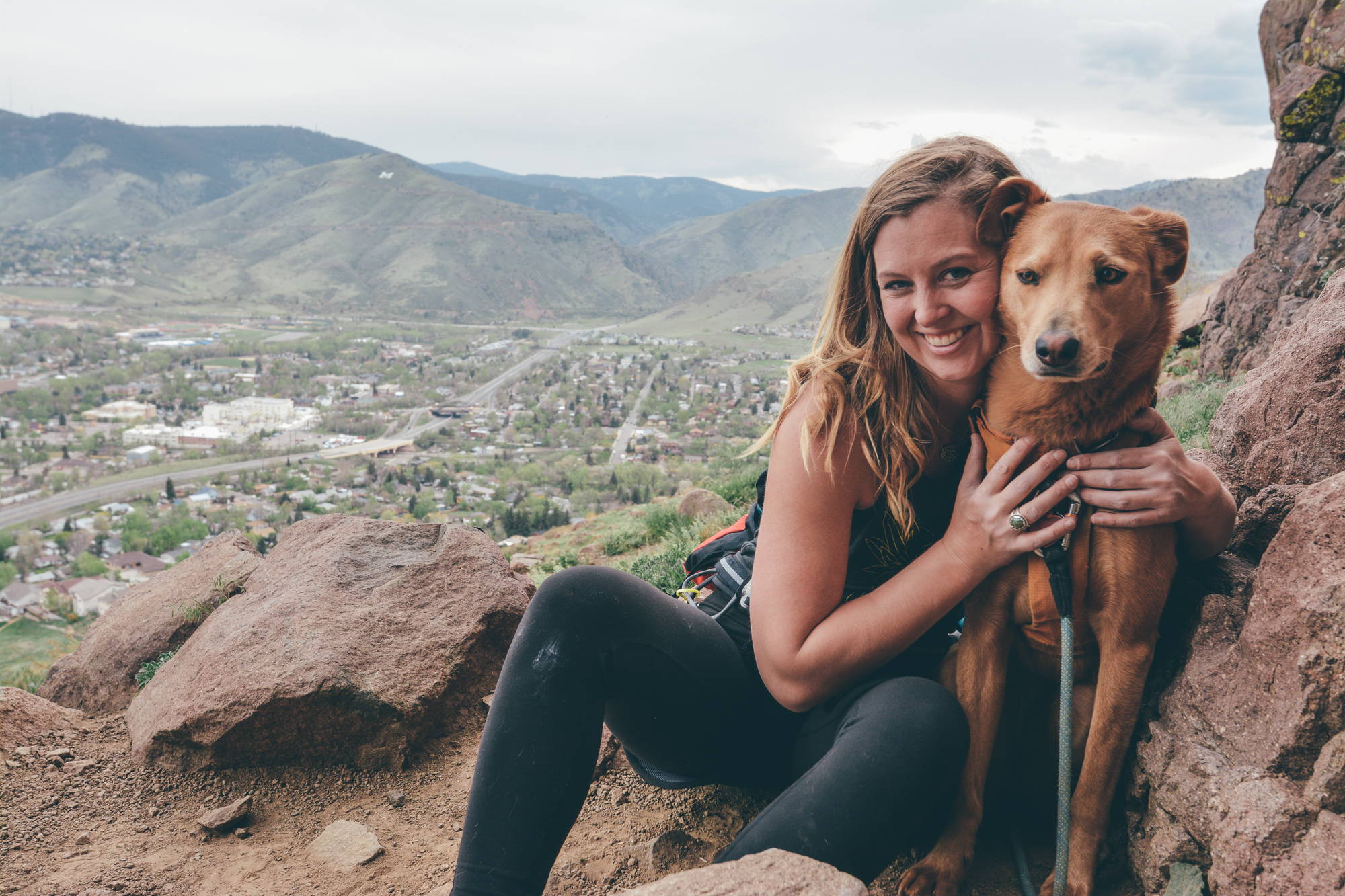 Are you still doing it for the same reason?
Definitely. I am still living small to save money and to be more environmentally conscious. But my reasoning has grown since I've transitioned from a camper to a van. (We never built a tiny house on wheels, because the camper ended up being a perfect fit for that time period.)
I've fallen in love with moving and seeing new places. I am inspired by the people I meet and the ones I now call my road family. I love learning more about our public lands and encouraging others to care more about their impact as travelers.
What was the tipping point of your blogging career?
I might still be waiting for it ☺ Working with Vanlife Diaries has been an absolute blast. I've been fortunate to join their team about two years ago now and now I'm able to share stories on their platform as well. I'm happy to use my writing and photography in as many places as I can if it might make a difference for those reading it.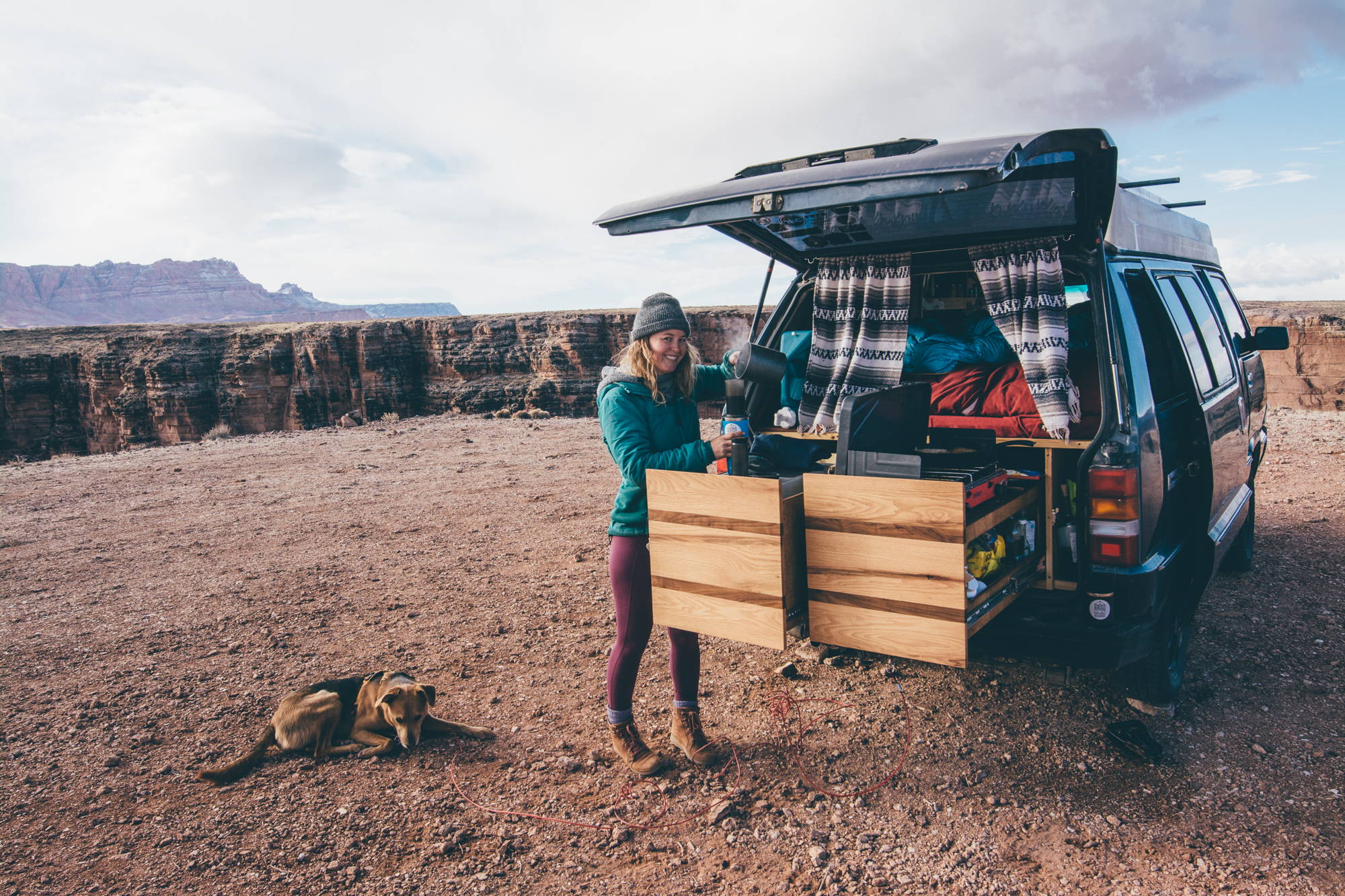 #1 piece of advice for aspiring bloggers?
Keep at it! I never started blogging to make money. I'm a storyteller and I absolutely love hearing what other people are doing and promoting their work. I find it so much more inspiring than simply telling my story over and over again. I would say that if you're passionate about something, spread the word! Chances are someone will be encouraged by it and you might change someone's life for the better.
One thing you do regularly or did do that you attribute to your success at this?
I am always making lists and creating my own deadlines. It's been hard to manage work on the road because there's so many incredible things to see and do. I try to create time in my schedule for work days and time in my schedule for days off. It's been difficult to give myself days off because I could work every single day and still feel like it wasn't enough. But it's important to rest, take care of your body and make time to enjoy nature as much as possible.
What's one thing people who follow you don't know/get to see?
I try to be as transparent as possible through all my struggles, but it's hard to show everything. There are definitely low points (breakdowns, loneliness, cold weather, etc.). But I try to remind people that there are low points no matter if you're living in a van or a house. There are different stresses depending on where you live. I try to make the best of them and remain optimistic. Working through the challenges helps me grow and be more educated. The next time I encounter a problem, I'm able to work through it a little bit better.
What's the funniest/weirdest DM you've ever gotten?
That's a tough one! It made me laugh when I got a marriage proposal. Overall, I've had such an amazing community of people supporting me. I'm really grateful to have such a supportive network.
Hardest thing about working on the road?
One of the hardest thing about working on the road is finding Wi-Fi. And it's quite a catch 22 because you don't want some of these incredible places to have Wi-Fi. You want to enjoy them outside of service. There's only so many times you can go to the same coffee shop or library before you start to go stir crazy. And most of the time, you don't want to be working when you're out traveling. Finding a balance is difficult.
Hardest thing about van living that never gets easier with experience?
For me, it's been a hustle to try to earn enough money to sustain this lifestyle. I'm always exploring new opportunities and broadening my skills. But it can be frustrating when opportunities don't work out. But when one opportunity doesn't work out, another opportunity comes around.
It's difficult to be optimistic when sometimes, you're crossing your fingers that you'll have enough money to get by that month. But by working all the time, I've found a way to make it sustainable. I thought this part would get easier over time, but for me, this is something that still can provide some anxiety in the lifestyle.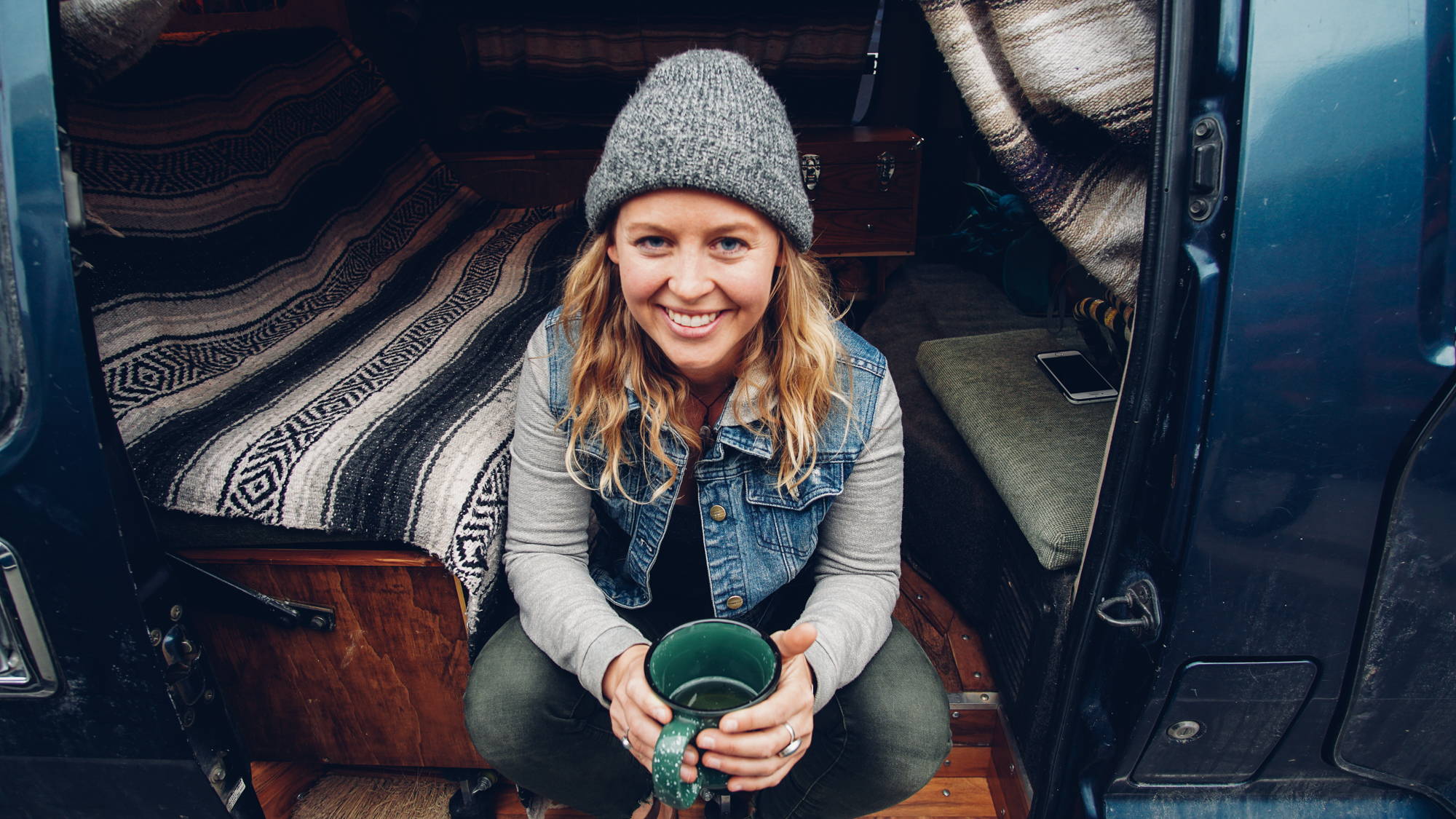 Will you #vanlife forever?
Most likely not. But I will always incorporate sustainable practices into my lifestyle. I plan to live small (compared to the average American) for the rest of my life. I know I don't need that much space to be happy. I currently live out of 40 square feet and that's working great for me. I will always have a traveling mind. I feel a bit antsy when I'm in a place for too long. And I don't enjoy camping out in cities unless I have a project I need to focus on. I prefer to be in an area, away from people, and snuggled up with Peaches. We like exploring the land around us, cooking over the campfire and meeting like-minded people.
Best place in your opinion to live in a van?
Farmland! Working on a farm for a season has been my favorite experience. I loved having the van parked in one spot for two months and working hard every day. I was surrounded by other vanlifers so I also had an incredible community.
National forest has given Peaches and I this incredible place to hike, camp and run free. We love exploring our public lands for this reason. I also like cities or towns that are close to national forest so that you can go into town to grab supplies and back to an area that's free to spend the night.
If you could teach the world one thing tiny living has taught you, what would it be?
Tiny living has taught me to take it slow. Getting here took me three years and it wasn't all beautiful. The camper we lived in wasn't luxurious. The vans I've traveled in weren't all that reliable. But I wouldn't trade it for getting me to where I am today. All those experiences taught me how to be resilient and independent. Things that were scary and uncomfortable three years ago are now easy to get through.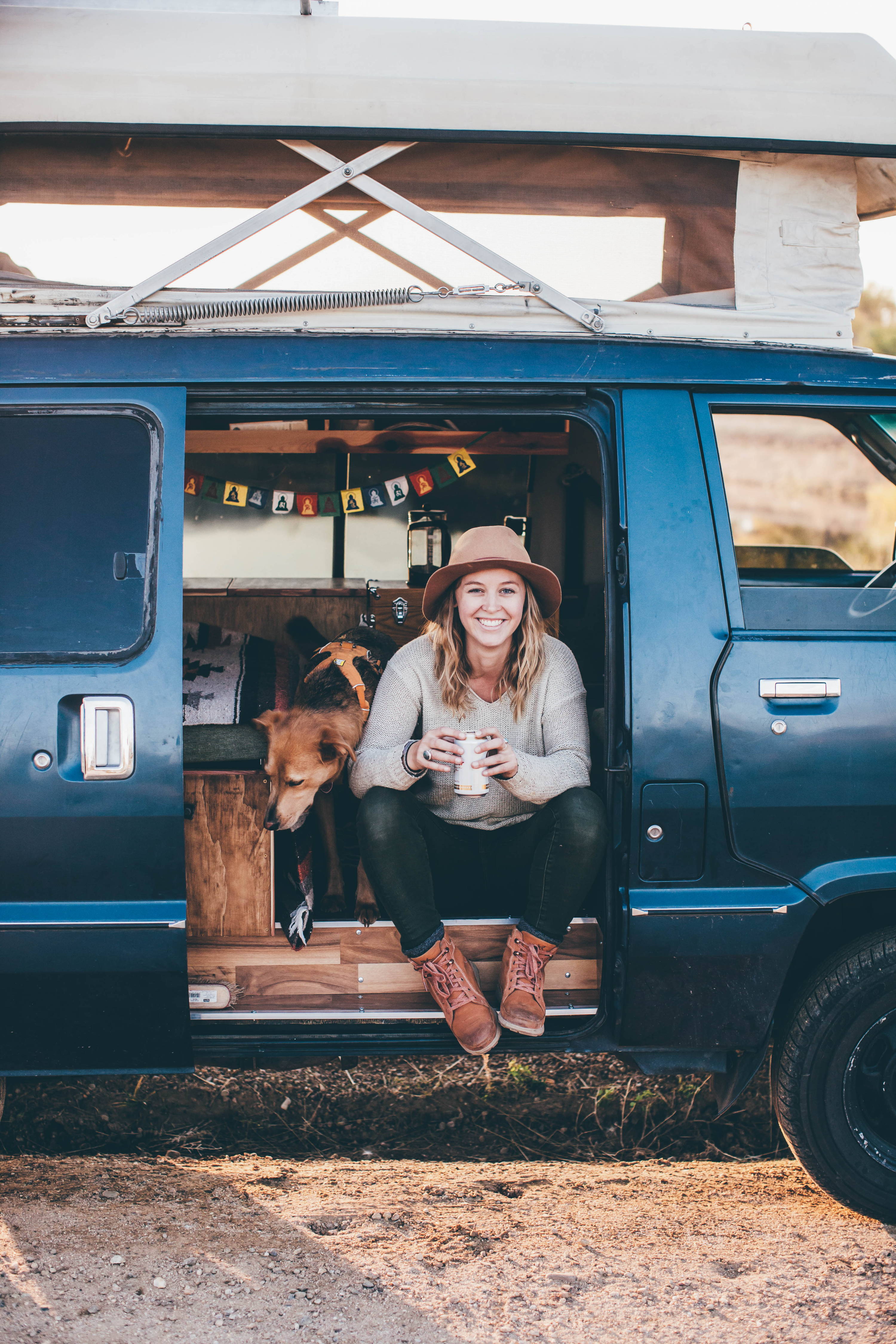 What does Lifestyle Over Luxury mean to you?
Lifestyle Over Luxury does an incredible job of producing high-quality clothing while also being conscious of the materials used to create them. I want to promote their good work because of their commitment to sustainability. That message is important to me and it's something I want to encourage others to consider when they're purchasing clothes. Supporting businesses like Lifestyle Over Luxury help make the world a better place. And Lifestyle Over Luxury also hosts beach clean ups as a way to further their environmental initiatives. I support not only their clothing, but their commitment to leaving places better than they found them.
// NEW RELEASES
}